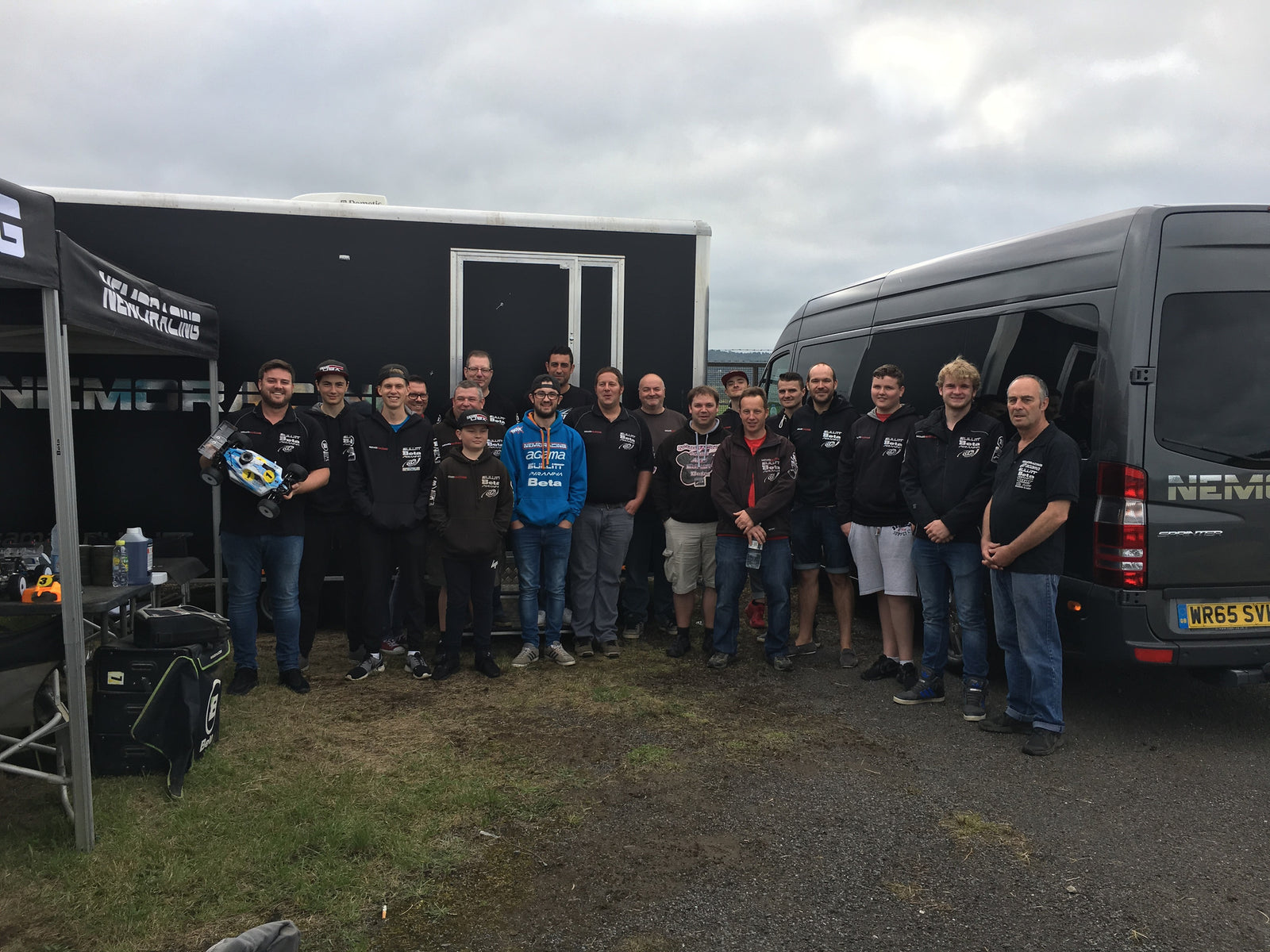 The fourth round of the BRCA National series took place at the Pembrey race circuit over the weekend. The rainy weather that had plagued previous races including the National warm up was not to be found with glorious weather welcoming the team upon their arrival on Friday, making it a pleasure to set up the pit area.
The track was looking to be in good shape, with no alternations taking place since the eBuggy and Truck National event. The practice rounds were underway with good performances from many of the team, with Darren TQ in the these early stages. The Nemo team as a whole were also showing good pace as they learnt the track.
The tires that had been used at the eBuggy National were yet again the tire to run at this event - Ultra Soft Volante's - with 95% of the team opting for these. They showed superb wear characteristics and unrivalled traction.
Round 1 of qualifying saw a very good performance from Darren Bloomfield, Tony Truman, Joni and William Skidmore as well. Darren had very quick pace but an unlucky error in his run lead to a 2nd in round just behind Jack Embling. In the earlier heats, Dave Stanley and Mark Everitt also showed very good pace and performance with their Agama buggies as they fully familiarised themselves with the track layout.
The second round of qualifying came around with a strong result for Darren. He TQ'ed over Elliot in second and Neil Cragg in third, with Jonny taking the 4th spot less than a second behind 3rd place, Tony Truman and Ollie Currie were also in the top 20.
Round 3 of qualifying saw another small error from Darren preventing him from taking top spot, he would end 2nd. Joni ended 4th, just 0.2 seconds behind the 3rd place driver Micheal Lewis. Tony Truman was 8th and William Skidmore also made it into the top 20.
Round 4 was superb for the Junior representatives with Callum, Joni, William and Ollie all making the top 20. A 3rd in round for Darren would mean for this one would be the drop score if round 5 was a good result.
Sunday morning came and with it the 5th and final round of qualifying. With a very consistent and fast run from Darren the overall TQ was secured with yet another P1 finish, good finishes from Joni and Ollie would mean semi final qualification results for the both of them.
After qualifying the Nemo Drivers directly into the semi finals were Darren Bloomfield in 1st place followed by young Jonny Skidmore in 5th, Tony Truman in 9th, Ollie Currie in the 13th spot and William Skidmore rounding out the top 20. A total of 5 Nemo drivers in the top 20, a really good start to the Semi's.
The Semi final B was run first with just William Skidmore in this one, there was a large amount of exchange out on the track, with some moves paying off well and some not so, but some very good driving talent was shown by the Junior. He is really improving and getting faster and faster at every race meeting, some small mistakes meant he just missed out on a main final spot on this occasion but we are sure his time will come soon.
The semi final A was then run, with Darren looking to trump the top time in the first semi which had been set by Elliot. It was a difficult final in general for our drivers with such good pace on this semi side. There was some very lethargic marshalling for Joni, which he couldn't quite come back from and an altercation for Ollie with a driver jumping back on the track and subsequently wiping him out resulting in these two juniors not progressing. Meanwhile Darren lead the semi from flag to flag and things look very promising for the main final. Tony made it into the top 7 and booked a main final position as well. As we looked over the results sheets and compared times from both semi's it quickly came to light that Darren had really excelled with a time over 13 seconds quicker than Elliot. We were very impressed by the gap over the 20 minute final.
After post race scrutineering, Darren and Tony's cars were prepped for the main final with no major changes being made as both had a super comfortable feeling with the car. New sets of super soft Volante tires were the choice for both.
The main final was run and Darren drove in a fashion to make everyone proud, a real world class performance, never loosing the first place position and never leaving the door open as he soon started to pull a gap on the drivers following behind. This continued until the end of the 45 minute final where he ended with over 20 seconds gap to second place man, Lee Martin. Tony had a good final also, ending with a 7th place finish. It was a welcome return to form for the Bicester man.
So a perfect weekend for us as Nemo, with Darren taking his second consecutive maximum points finish, earned by taking the TQ and the win. As we move on to the last round of the UK National championship he leads the way with Elliot in 2nd. All to play for when we arrive at Slough for that final race in early September.
Finally congratulations to the Pembrey model car club. In their first National they produced a really fun and challenging track, that stayed together and ran super consistently across the two day meeting....we look forward to coming back soon.
This weekend coming we will be at the final round of the eBuggy & Truck National where we hope to see Joni crowned vice champion alongside Darren.
---