UK E8 & Truck National Round 1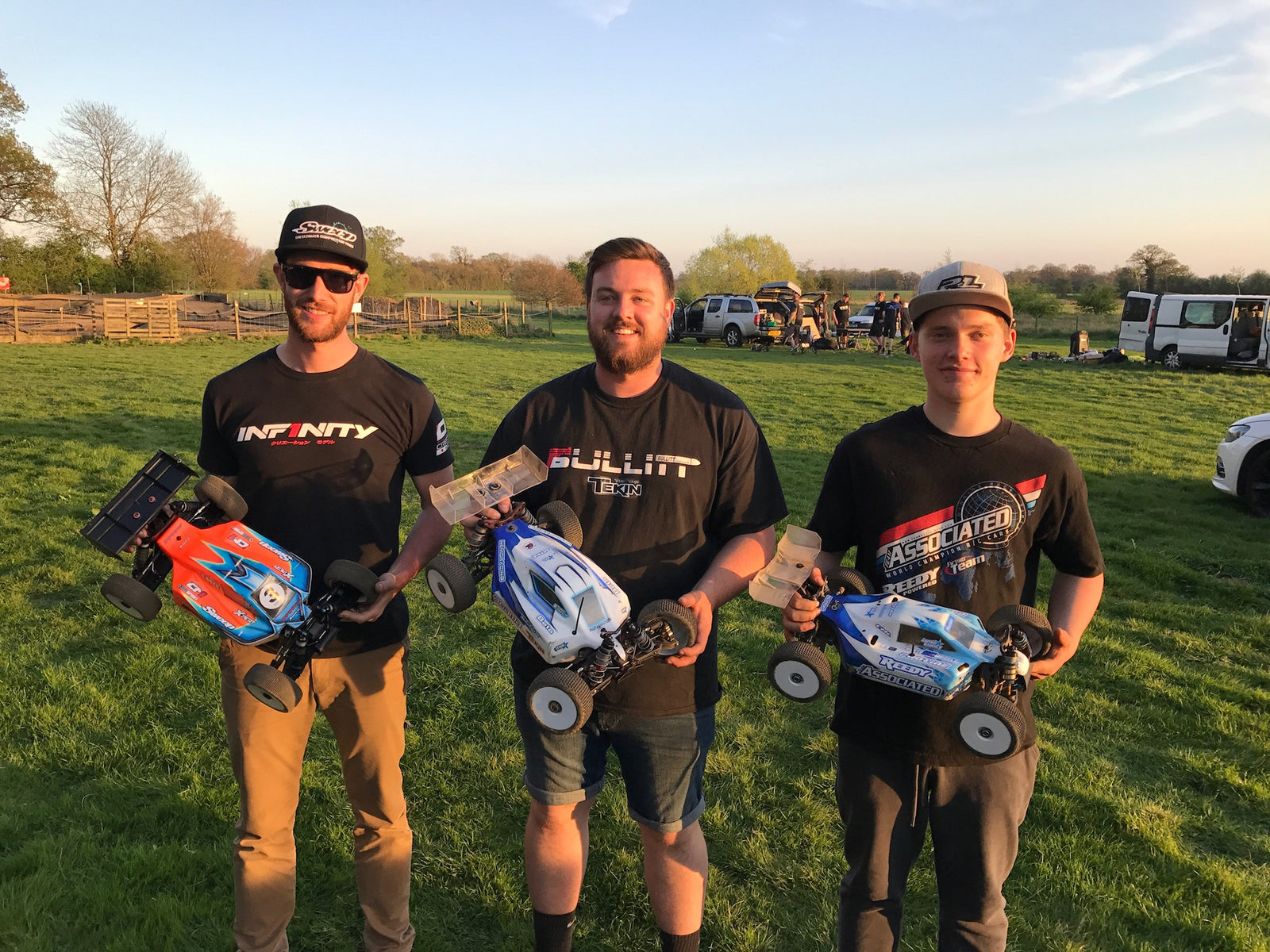 This weekend marked the start of the 2017 E8/Truck Nationals at the brilliant KMCC facility. The weather and track were looking great with the circuit having had a full refresh and temperatures in the 20's would be the order of the day. 
Electric buggies get 2 rounds of practise and Nitro Truck get one round of practise, all of the A215E's and A215T's were looking very comfortable on the layout. 
Qualifying was underway and the weather kept on creeping up, lots of our drivers started to go harder in the tyre to good success. After qualifying Darren took the TQ in electric. Ollie Currie was really getting back into the swing of things with an awesome 5th overall. Tony Truman would also qualify into the main in 8th place. 
In Truck, Jon would be in contention ion near the front in all rounds. Taking a 2nd and 3rd and finally lining up 4th on the grid.  Super performances were also shown by Allan Bridgeman, Mark McDonnell, Michael Shorey and James Tatlow. Billy Tylaska US Manager was also in attendance all the way from Texas, wheeling another A215T around the track !
After qualifying the finals were up, In truck Dominic Powles drove well to bump from the D into the C final, Mark McDonnell from the C into the B, Both Alan Bridgeman and Michael Shorey from the B into the A final, Well done drivers. The Truck main final was up and Jon Hazlewood had a good start, holding onto second place comfortably but the track conditions were tough and the tire was a touch too hard for the conditions as the temperature cooled off, but the B-221 was superbly economical allowing for 10 minute stops with ease allowing us to just 2 stop the 30 minute main final. After the flag dropped we had Jon Hazlewood in 6th, Allan Bridgeman in 10th and Michael Shorey in 14th. 
In electric buggy, Martin Hart bumped from the E to the D final, Josh Graham from the C to the B and Joni Skidmore from the B to the A final. In the A final we had 4 drivers, they all drove superbly well for the 12 minute main, Darren drove an awesome final and cruised to comfortably take the win. Joni Skidmore made it home in 4th place with Ollie Currie closely following in 5th and Tony Truman 11th. We were delighted to have 3 A215e in the top 5. 
Well done all, huge thanks to KMRC and to Chris for putting on a great race meeting.
Next up we have the NEO Race 2017, updates, pictures and videos to come throughout the event. 
---