E8/Truck National Round2 at NDOR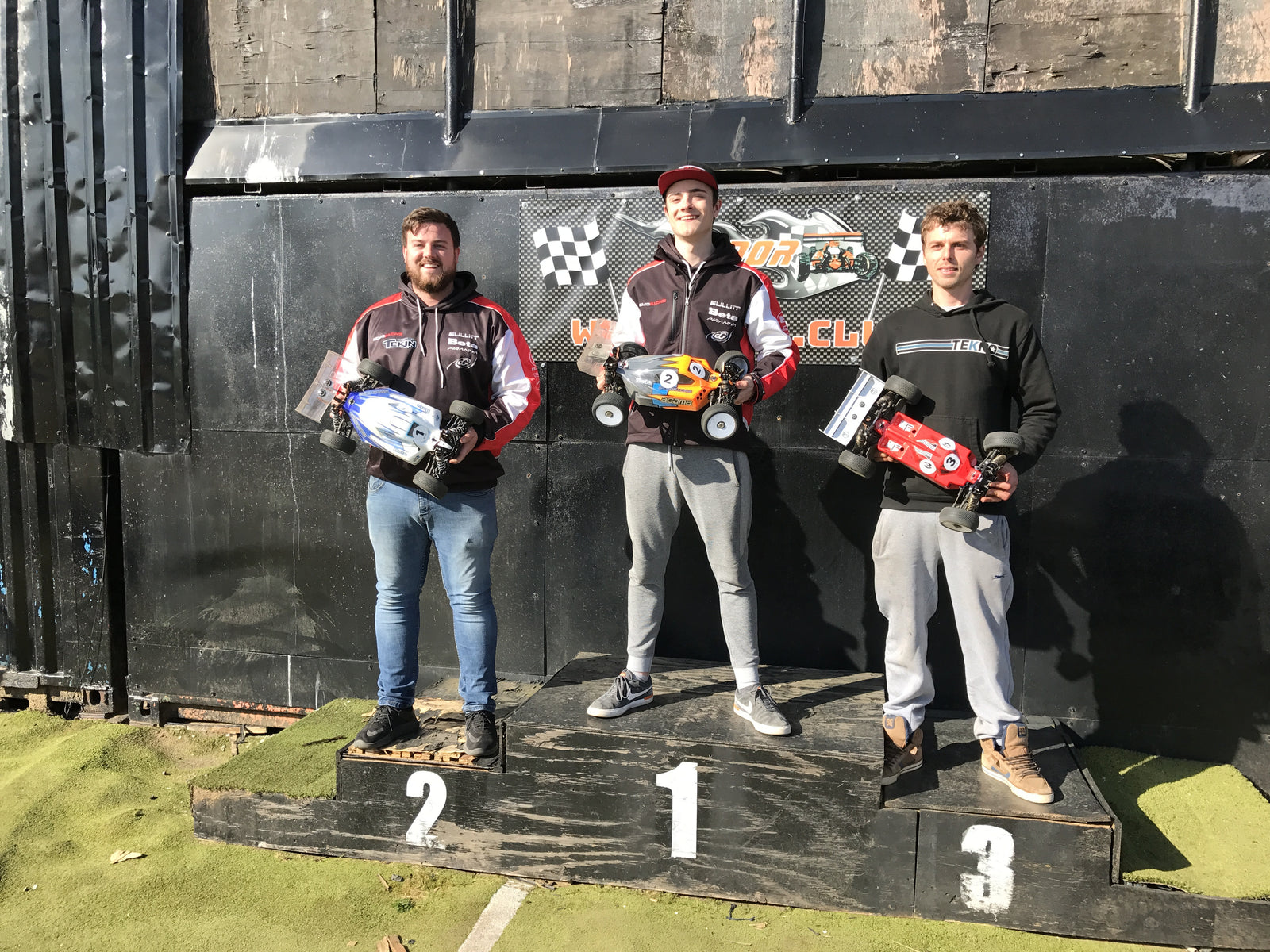 This weekend gone was the E8/Truck national at the NDOR track, near Nottingham. This event was the rescheduled date from the first round cancellation. The weather was good and stayed sunny all day making for bone dry track conditions.
We had a strong representation of trucks and electric buggies racing, and with the amount of track time recently with the first nitro national being hosted just a few weeks before the team were looking very strong and up to pace as the first round of qualifying came around. 
Qualifying was great for the team, with the track staying consistent allowing all of the buggies to be fined tuned into the surface. After qualifying we had Darren in TQ, Joni Skidmore 2nd place, William Skidmore 4th place. In truck Jon Hazlewood 5th and Allan Bridgeman 9th.
The finals were up, and in the truck C final, Dominic Powles and Mark McDonnell both had great runs to bump up into the B final. Michael Shorey drove very well in the B final to progress into the main truck final, well done Michael. The Truck A final was up and a tricky one for Jon, finishing in 6th, Michael Shorey 8th and Allan Bridgeman 11th. 
The e-buggy B final was ran and Mark Everitt drove a very good race to bump up into the A final. The main final was being run at the end of the day. All of the A215E's lined up onto the grid and the final was underway, a first corner tumble allowed Joni to take the lead and stretch out, Darren had to fight hard through the pack of drivers to regain a podium position and although taking large chunks of time every lap, it wasn't enough to grab the lead back and Joni drove very consistently to take the win, well done Joni. Darren came home in a close 2nd place, William Skidmore 4th and Mark Everitt 12th. 
Well done to all of the team and a big thanks to the race organisers for a slick race meeting. 
---